Emigrating to Queensland
David (32) and Faye (31) Thames. In the UK, David worked as a cartographer for the UK Hydrographic Office. He is now working as a cartographer for Hema Maps in Brisbane. Faye used to work as a speech therapist for SeeAbility in UK. She now works as a speech pathologist for the Department of Communities, Queensland Government. They moved from Taunton, Somerset to Toowong, Brisbane.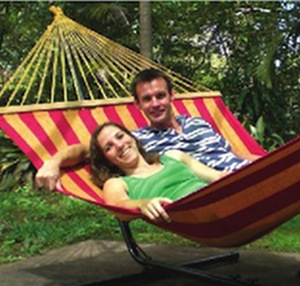 We moved to Brisbane last October after being awarding our temporary residency 457 visas in August. Myself and my wife Faye, 31, had never been to Australia before but we decided to make the move Down Under because we wanted a change of lifestyle and warmer weather!
We have some friends that live in Australia, and knew of others that had visited. We asked them for as much information as was polite, without stretching those friendships too far! We visited the Bob in Oz blog (www.bobinoz.com) and tried to read as many books as we could find, however, experiencing the reality for yourself is different from reading about the experiences of others in books.
Faye works as a speech therapist and she had been offered a job as a speech pathologist for the Queensland Government's Department of Communities.
Her employer was able to pay for some things, but the rest of the move was financed through savings. Our biggest costs were flights and shipping. We still have our house in the UK, which we've rented out.
We thought the visa application process was more complicated than it needed to be. You get asked the same questions over and over again, and often by the same people! There are many forms to fill in, and there is also a lot of uncertainty in the process. Luckily, Australians seem quite pragmatic about things and tend to get things done, even if you haven't got every single piece of paperwork they require.
The migration process took about 18 months, and there are no more stages now until we decide to take up permanent residency or Australian citizenship.
I worked as a cartographer for the UK Hydrographic Office and finished work a week before we left. I spent that week dismantling and selling unwanted furniture and my car. The most stressful part about migrating though was leaving family and friends behind.
When we arrived in Brisbane, we met our friends, who live in Nundah, about 10 minutes from the airport. We spent a few days with them and they showed us round the city. Later, we moved on to our serviced apartment in Toowong, bought a car and Faye started her new job. We began looking in earnest for a house to rent. We eventually found a property to rent, also in Toowong, as we found that we really liked the area. The suburb is very leafy and family orientated, with a shopping centre, and a library with free WiFi. There are some good transport links to other areas of the city, and the Botanic Gardens are nearby.
I spent the first couple of months looking for work until I was offered my current job, as a cartographer for Hema Maps.
We live in a fairly modern home, and it's all on one level upstairs, with a garage and rumpus room underneath. It's very practical should there be floods.
Houses are much larger here, though kitchens and bathrooms may not be so well appointed. Rental prices seem expensive, but you get more house for your money than you would in the UK.
I'm getting used to the sun shining every day! It certainly makes planning what to wear easier – I just wear T-shirt and shorts mostly.
There are so many differences from our old life. Going to the pub is a much rarer activity here than in the UK, and people tend to invite you round to their house for a barbeque instead. The warmth of the people has helped and we have made some good friends.
Food seems expensive, however, it tends to be fresher and more locally produced. Another plus is that people take their leisure time more seriously here, and it's more outdoors orientated.
We miss the British countryside, Sainsbury's, pubs and real ale, and we miss family and friends, but we plan to return to the UK every 18 months. As for the future, we just want to see as much of Australia as we can while we are here.
My advice for other Brits wanting to move to Australia is to be prepared for the costs. It's a good idea to set up an Australian bank account before you leave.
When you're here, try to take it slowly, one day at a time. Don't expect to love Australia or feel Australian from day one, or for it to be an overnight life-changing experience. Homesickness is very real, not a sign of weakness and you see it in people that have been here many years.
Toowong is a suburb of Brisbane and is located about four kilometres from the CBD between Mount Coot-tha and the Brisbane River. Shopping is at a premium here with major shopping centres and speciality shops dotted around the area, and there is plenty of accommodation with motels and hotels in abundance. The suburb is also home to the Regatta Hotel and the Royal Exchange Hotel, two of the oldest still operating pubs in Brisbane. There are excellent schools and colleges in the area and plenty of recreation venues. According to the Bureau of Statistics, people from the UK are Brisbane's biggest migrant group, making up six per cent of the population.
Toowong is a major transport node, with almost all bus and train routes passing through here from the western suburbs. It has its own train station and an efficient bus transport system. If you work in Brisbane, you could enjoy a daily commute on the river. The City Cat outside the Regatta Hotel on Coronation Drive allows transport downstream towards the Brisbane CBD and upstream towards the University of Queensland. The suburb has also two excellent bicycle paths.
The majority of people here, as with the rest of Brisbane, live in detached houses with gardens. As with any suburb close to the city, property prices can be quite high. The average house price in Toowong is A$645,000 (£434,203) and A$407,000 (£273,997) for apartments. The average weekly rent in Toowong is around A$260 (£175).
Want a new start in Queensland? Come to Down Under Live and dream under a different set of stars