Press
Press release
Record numbers visit Down Under Live in London and Birmingham
Both Down Under Live spring shows saw a sizeable increase in visitor numbers, with our Birmingham event posting a massive 40% increase in visitor numbers.
Since 2009, Down Under Live has concentrated on providing visitors with a friendly and informal environment which has paid dividends in attracting both a high number and a high quality of visitors. Queues worked their way to the front door from early morning and continued throughout the day, with the free visa assessments proving exceptionally popular.
Several exhibitors reported record business and our dedicated seminar programme attracted an audience with both the desire and means to move downunder. Over 80% of visitors polled said they had not visited another emigration expo, demonstrating the unique audience that the show delivers.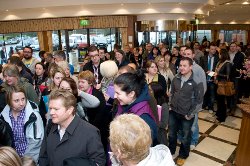 "Our concentration has been on attracting skilled workers with the skills that Australia & New Zealand need to Down Under Live," said event director John Weir, "And we are seeing a real surge in interest in moving downunder, driven by the continuing recession in the UK. New exhibitors have all been delighted with the show and we are confident our autumn events will be even bigger."
Down Under Live will return to the Business Design Centre in Islington on the 17th & 18th September and to the National Motorcycle Museum, Birmingham on the 24th & 25th September. Demand for exhibition space is likely to be high for both venues and many exhibitors have already confirmed their attendance.
You can see a video of our Birmingham event here - or read the glowing testimonials from our partners in London and Birmingham below.
"As usual a well organised and busy show" - Rachel Davis, Par Air
"We met some great candidates preparing to move to Western Australia" - Fran Joliffe, WA Healt
"We were very impressed by the attitude and professionalism of the organisers" - Adam Pembrey, Oz Force
"Down Under Live was a great show to attend and we were really able to get our service across to a new client base" - Jose Baptista, Tax Refund Pro
"Good flow of people - excellent" - Dan Glass, Go Global
"Another hectic show done! Both Birmingham & Islington were busy for us" - Tony Mooney, Live The Dream
To book your space, call John Weir on +44 (0) 1179 323586 or visit www.downunderlive.co.uk