Emigrating to South Australia
James Roberts (36) moved to Australia with his Australian wife Georgi (29) and their daughters Lily (4) and Martha (2). James worked as a business consultant for an international IT services company in the UK. In Australia, James works as a change manager for a global wine company and moved from Acton, West London, to Athelstone, Adelaide, in South Australia
I moved to Adelaide in October 2009 with my Australian wife Georgi, 29, after obtaining a spouse visa, entitling me to permanent residency on arrival. Georgi was ready to return home after 15 years in the UK, but the main reason we decided to move was that we were looking for better opportunities as a family, and a better quality of life.
We had visited Australia many times for holidays and we got married in Australia too, so I was quite familiar with the country.
We chose Adelaide because we felt that we could acquire a better work-life balance there, and it would offer us a more spacious, less crowded environment.
We financed our migration from savings. Approximately £3,500 covered our shipping costs, £2,500 covered our flights and accommodation, and £1,000 covered my visa and health checks.
It took 12 months to sell our flat in London, but apart from this, the overall process was relatively straightforward for us. We planned our move very carefully over nine months. There was plenty to think about, but there were lots of checklists and guides in magazines and on the internet to help.
As the spouse of an Australian, my visa was quick to obtain – almost too quick as I had to make an 'activation' visit before we had finalized selling our flat in London.
We spent our first week in Adelaide in a holiday apartment beside the beach. It was a crazy time with lots of admin to be done – activating my bank account, changing over my driving license, sorting my Tax File Number, buying a car, registering with Medicare, and liaising with our shipping company to find out when our possessions were arriving.
The big one though was securing a rental house for 12 months – this took a lot of the fear of being homeless away! We had a few weeks to fill until we could move into our rental so we hit the road for a couple of weeks and explored as much as we could of the state.
When we moved into our rental house it still felt as if we were on holiday, but a month or so into living here, I started to realize that I needed to get a job!
The intention was for me to work fulltime and Georgi to work part-time, or not at all, to look after the children.
I went on the Internet every day as I was concerned about the lack of appropriate jobs. I also registered with a job agency, although I didn't have a great experience with them.
When December came along, I realized that there was little chance of getting the job I wanted before Christmas so we resigned ourselves to waiting until the new year.
We had a great first Christmas in Australia. We went to the beach on Christmas Day morning, a tradition that we intend to stick to every year, and Georgi's family all came to us to celebrate.
In the first week of January I found a great job advertised, sent in my CV and had a call back the next day. I was interviewed the following week, but then there was three months of delay before finally starting work!
In that time my parents came for a brief visit. I expected to be working by then so it was a funny time – but they left feeling positive about our move, and how our life was changing for the better.
In March, my wife applied for a great job on a Wednesday, was interviewed on a Thursday and started on a Friday, so we both had new fulltime jobs, starting within a week of each other!
Since we have both started work we haven't looked back – we both have more responsibility and are better paid than in the UK. Working allows us to have a more comfortable lifestyle here.
After our rental lease expired after six months, we decided to look at buying a property. We found a great house in Adelaide Hills, and managed to get an offer for A$500,000 (£324,655) accepted.
In November 2010, we were in our new home and ready to put down some roots.
Our home is close to the bush, yet within an easy commuting distance of the CBD. There are plenty of decent schools and childcare facilities here.
It is a detached property with four bedrooms, two bathrooms, a double garage, spacious living areas and a reasonable sized garden. It benefits from being located near a conservation park, with walking trails, parks and playgrounds. The main difference between my new life in Adelaide and my old one is that I am much more relaxed. I'm also enjoying the weekends more and eating healthier and fresher food.
We are living outdoors more here, and will often eat our meals outside during the warmer months. We visit the beach lots and are more appreciative of the natural world. The best things to do are free – such as walking and cycling.
The summers are hot and sunny, although winters can feel cool. Houses don't seem to be quite as insulated as in the UK. I feel that we have all adjusted to life here well so far. Our two children, Lily, 2, and Martha, 4, have made some friends too. If I were to do anything differently I would have tried to save more money and lined up some job interviews before arriving. I would not have arrived a couple of months before Christmas as nobody is hiring at that time.
My advice to readers interested in moving to Australia is to be realistic about how much it will cost, and how long it might take to get work. Also, do watch the exchange rate but don't be a slave to it. If the time is right to move for you and your family, then do it. When you get here, seize every opportunity – it's a big change but it offers a chance to live how and where you want!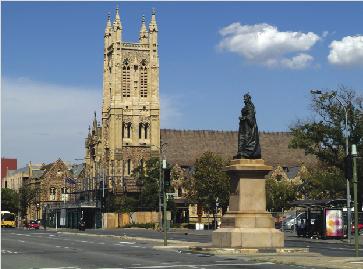 WHAT'S IT LIKE?
Adelaide is the capital of South Australia. Its Mediterranean climate guarantees plenty of interest from people seeking to build a new life in Australia. Combine Adelaide's superb climate with the lowest house prices of any Australian major state capital and you discover a proposition that is increasingly attractive to migrants seeking to improve their lifestyles. Adelaide is Australia's most affordable big city. It also needs the skills of around 5,000 new people from overseas each year to further develop its economy.
IS IT EASY TO GET AROUND?
Most people in Adelaide drive themselves to work rather than using public transport. Adelaide sells itself as the '20-minute city' – and indeed driving to the city centre from the suburbs in peak traffic can take half an hour. The traffic in Adelaide flows easily – and traffic jams are rare. For anyone used to driving in congested cities, Adelaide traffic is very easy. Many drivers from overseas are surprised to discover overtaking is allowed in both lanes. Adelaide has a good public transport system – consisting of trains, buses and trams. Buses on major Adelaide routes are very frequent. In the centre of the city you can travel on the buses free of charge.
WHAT IS THE HOUSING MARKET LIKE?
Around three-quarters of Adelaide's houses are detached. The north and north-west of the city are industrial while managerial and professional classes are concentrated in the eastern and hills suburbs. Most areas in Adelaide are pleasant to live in, varying in price and character depending on the location. Coastal properties tend to cost more than those inland. Streets are clean, although graffiti is an issue in some locations.